Products Overview
The product page is one of the most important pages in your website, below we will describe all settings in the views. The Product overview is showing everything without any difficulties, the view will be explained below. In the overview you are able to search on every item in the list. The dropdown buttons may be used to find a product easier based on their state.
Product Overview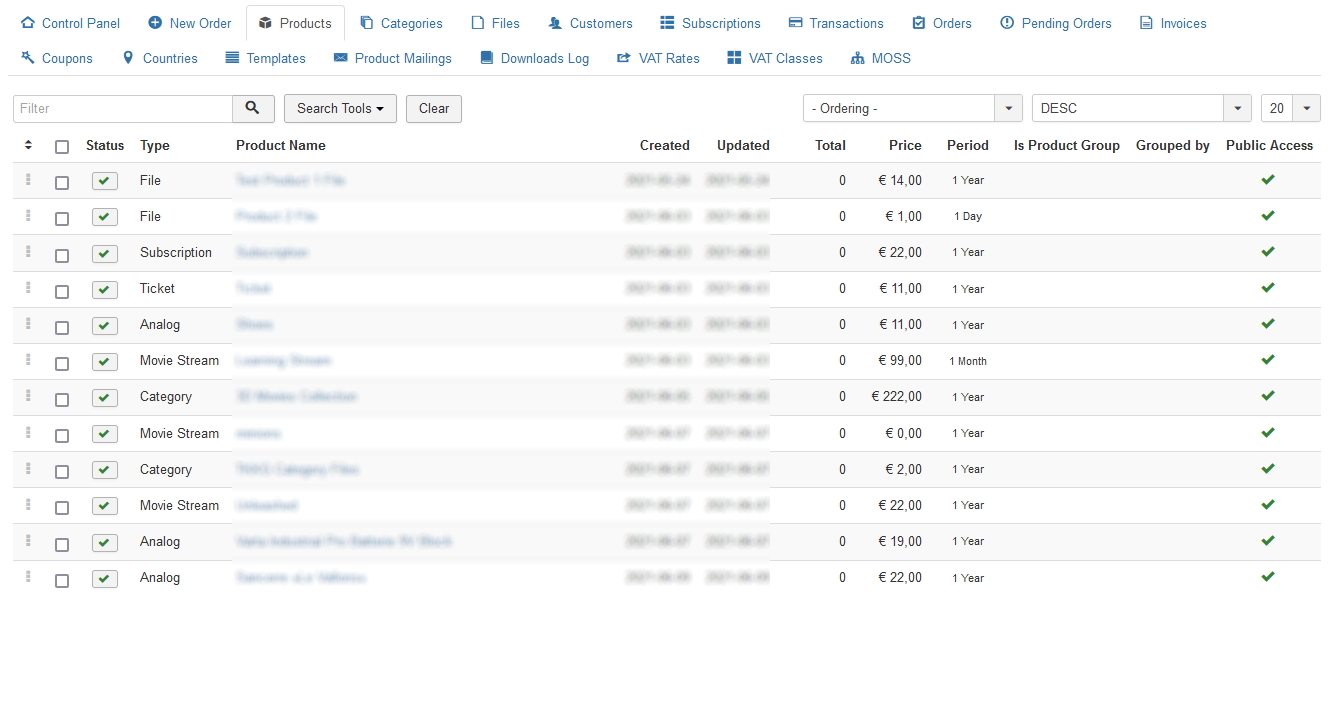 Product Status
Availability - Published / Unpublished
Type
Product type
A product can be a
File
To sell a subscription for single file access.
Category
To sell multiple files, summarized to one category. E.g. a postcard collection.
Subscription

To sell just a subscription. E.g. to get access to a protected group at a social network or to get support for a specific time period.
You can automate the subscription process for your needs, since there are a lot of plugin-callback calls while the checkout process and other user interactions. For more information see plugin callback functions.

Ticket
To sell a ticket. A ticket has a layout-template, to print the ticket. The created PDF-File can be downloaded by the customer.
Movie-Stream
To sell a movie stream instead of the movie file. Since screen record software enables the customer to "copy" the stream. this will just increase the expenditure to get a file. On the other hand, if you specify the legals this will become illegal for the customer.
Analog
To sell simple "analog" products with postal shipping. Please note, the Logical-Arts Subscriptions package is designed mainly to sell digital subscriptions, not analog products.
Product Name
The name of the product
Created, Updated
The creation / modification dates of the product
Total
Total - Amount of subscriptions including history.
Price
Product Price excluding VAT (if required)
Period
The period being used for the product.
Is this a product group?
You are able to assign more products to another product.
Grouped
To which group is this product attached.
Public Access
If yes, the product is listet for all customers, else only customers logged in can see/order the product